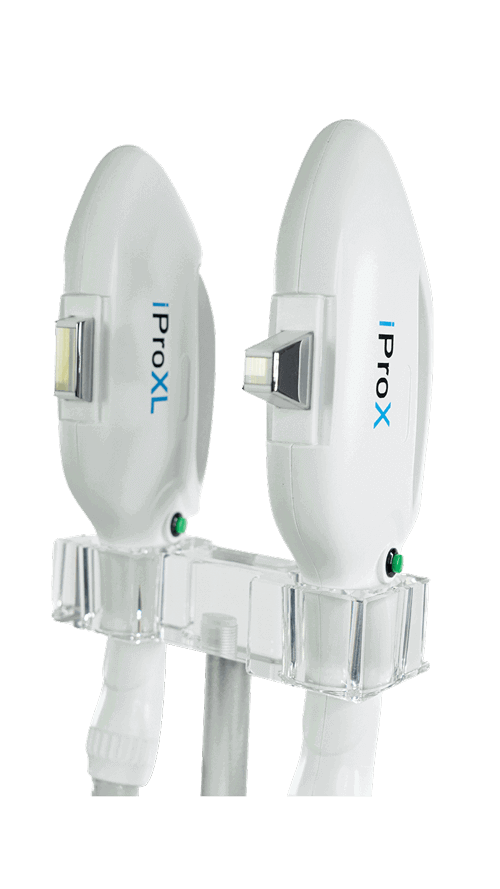 IPL and Radiofrequency Treatment for Dry Eye
IPL or Intense Pulsed Light is a safe and effective treatment for dry eye syndrome associated with oil gland deficiency, blepharitis, and ocular rosacea. Intense Pulsed Light has further been shown to decrease demodex and bacteria around the eyelids.
What is IPL and Radiofrequency Treatment?
We offer our patients the opportunity to treat chronic dry eyes with one of the most advanced systems available worldwide, iProX. This is dropless dry eye therapy that with early intervention can change the course of your dry eye disease. Living with dry eyes is uncomfortable, troublesome, and can significantly reduce your quality of life. With the revolutionary iProX system, the factors underlying dry eyes can be addressed without the need for expensive prescription medications for the rest of your life.
What is iProX? How does it work?
iProX is a next-generation device and the highest-performing platform on the market. IPL (Intense Pulse Light) technology works in the treatment of dry eye by stimulating the facial tissue through controlled light pulses that target abnormal or bad blood vessels and pigmented lesions. This results in a significant reduction of inflammatory levels along the eyelid margin. Proposed photo modulation of cells improves overall metabolic function.
RF (Radiofrequency) technology uses heat generated by electrical currents and applies it to the inner layer of the skin around your eyes. The heat melts any oily substances that may be blocking the meibomian glands. When this happens, normal activity can be restored, and these glands can begin to secrete oil into your tears. IProX uses IPL and RF technology simultaneously to reduce ocular inflammation and improve oil gland secretion providing a fast, effective treatment for Dry Eyes. The IProX energy can be adjusted for every patient's unique skin type and dry eye severity level.
Drop-less Dry Eye Therapy; decrease in dry eye symptoms and ocular rosacea
Reduced abnormal blood vessels on the face to alleviate inflammation
Safe, quick, and comfortable in-office procedure
Combination IPL-RF (Radio Frequency) energy delivers deeper, painless penetration for improved outcomes.
Same day recovery, slight redness for up to an hour
Tailored treatment to your specific needs
Bonus aesthetic benefits including decreased redness, fine lines and wrinkles, sunspots and hyperpigmentation
What to expect during and after your IProX treatment?
Before beginning the IPL treatment, your doctor will place eye shields over your eyelids to protect them from the bright light pulses. A thin layer of cooling gel will be applied to the skin of your face and around your eyes to protect that sensitive area as well.
Your doctor will then hold a small device over your eyelids to administer the pulses of light. These specific light waves target and destroy abnormal blood vessels that contribute inflammation to the ocular surface. In addition, the heat from the light pulses will then lead to the melting of the thick secretions blocking your oil glands. After the IPL has successfully opened your meibomian glands, your doctor may also express a small amount of oil from the glands in your eyelids to stimulate normal oil flow.
Most patients will notice an improvement in their dry eye symptoms following their first or second IPL treatment. However, it is generally recommended to return for additional treatments on a monthly basis for a total of four sessions to ensure optimal results.
Your doctor will review specific post treatment instructions and things you should avoid facilitating comfortable recovery and optimal results.
For severe DES, additional treatments may be recommended to maintain healthy meibomian gland function and prevent the condition from recurring.
What are Potential Side Effects of IPL Treatment?
While this treatment is incredibly safe, there are some side effects to look out for. These
can include:
Flaking of pigmented lesions- Crusts may take 5-10 days to disappear. It's important not to manipulate or pick the lesions.
Discomfort- During the procedure you may experience a sensation similar to a rubber band snap. Varying degree based on skin type and sensitivity of area treated. A mild sunburn sensation is expected after the procedure for a short period of time.
Reddening and Swelling- Severity and duration depend on the intensity of the treatment and sensitivity of treatment area. Will resolve quickly with cool compresses.
Bruising- This rarely occurs but can last up to 2 weeks.
What is the science behind IPL Dry Eye treatment?
IPL is "intense pulsed light" that is delivered with a handheld computer-controlled flash wand. The light is converted to heat-inducing ablation of vascular structures. This process of photo thermolysis is one of the proposed mechanisms of action of IPL for dry eye, where wavelengths selectively destroy blood vessels by targeting chromophores within the blood vessels. The destruction of telangiectasias "bad blood vessels" inhibits access of inflammatory mediators to the eyelid tear glands. Other mechanisms include a mild local warming effect to allow better expression of meibum "tear oil", destruction of bacteria that cause inflammation at the level of the meibomian glands, and photo modulation of intracellular proteins and mitochondria improving metabolic function.
Why Choose Carlisle Vision Care?
Our Optometrists are highly trained, and patient focused. Our practice is equipped with cutting edge technology including the groundbreaking iProX IPL-RF system. Carlisle Vision Care offers patients a boutique experience, and the most advanced treatments for every step of restoring your eye health.